LET'S GET TO WORK ON EDUCATION AND WORKFORCE TRAINING
Education is the key to building a stronger, more broad based economy and ensuring that no child's future in Rhode Island is determined by their zip code. That's why Seth led a once-in-a-generation plan to transform our school buildings and its why he is making education and job training the cornerstone of his plan to build a stronger Rhode Island. We must make college more affordable, improve K-12 schools, expand access to early childhood education and build out job training and apprenticeship programs that prepare Rhode Islanders for 21st century jobs.
Where We Are
Rhode Island's educational outcomes continue to lag the region, and our current Administration has failed to take the bold steps necessary to make Rhode Island's education and training programs competitive with neighboring states. Rhode Island continues to have the highest percentage of adults without a high school diploma of any state in New England, and the second highest percentage of adults without a bachelor's degree. Last year, college enrollment declined more in Rhode Island than any U.S. state. Providence, the state's largest school district, has struggled to make headway despite being taken over by the state two years ago.
Rhode Island's students, workers, and families cannot wait for change. They need and deserve a Governor who will make bold investments in education, from early childhood to adult learners, in order to ensure that Rhode Islanders are ready for the high paying jobs of the 21st century. As the only candidate who began his career as a public school teacher, Seth uniquely understands that to strengthen Rhode Island's economy, we must educate our way forward. In fact, he has already built a strong record on education from the Treasurer's office.
Seth's Record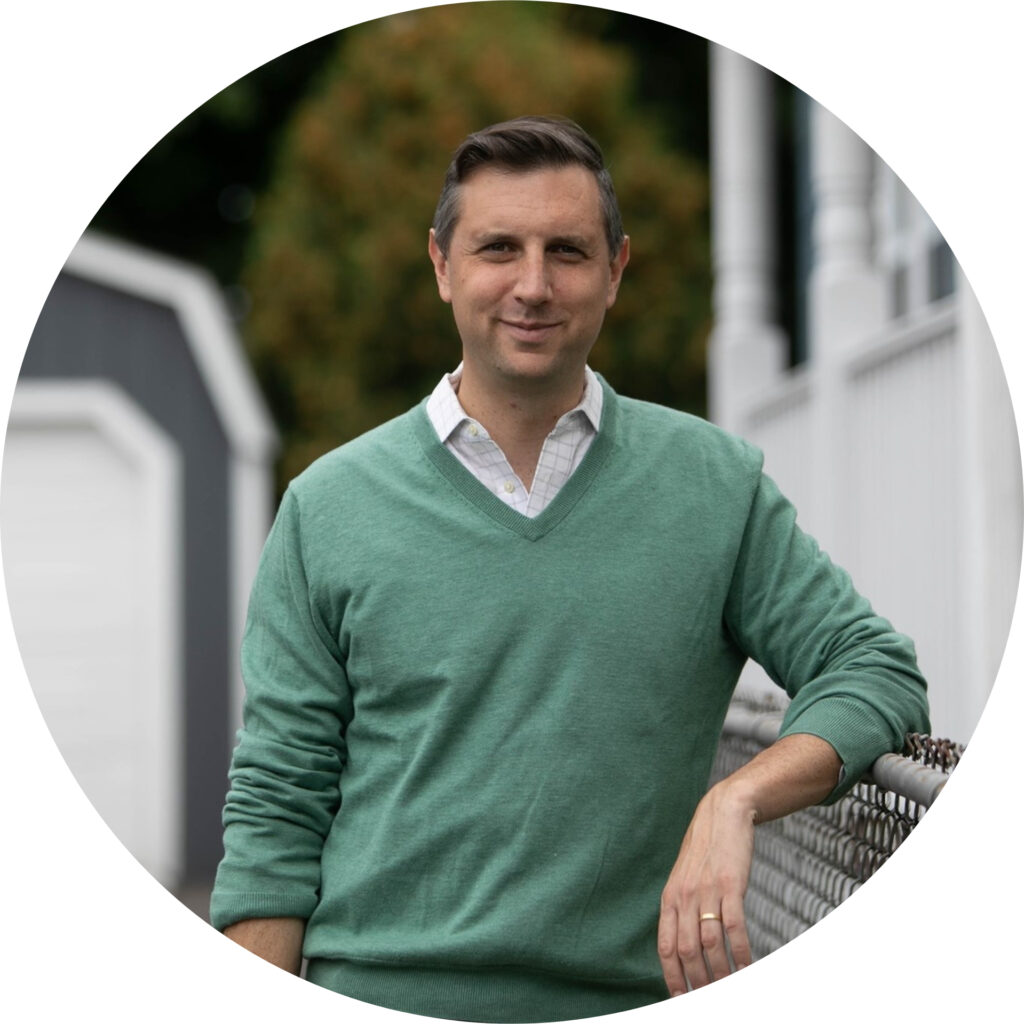 In 2017 Seth developed an ambitious, once-in-a-generation plan to fix Rhode Island school buildings as co-chair of the state's School Building Task Force. Under his leadership, Rhode Island has already allocated more than $1.4 billion to transform or replace more than 176 school buildings, creating healthier and more modern learning environments for Rhode Island's students and teachers. The impact of Seth's school construction plan can be seen across the state, from the new high schools being built in East Providence and Newport, to renovated elementary schools in Smithfield and Cranston. Communities across Rhode Island continue to break ground on new schools and Seth will continue to spearhead this initiative until every school building in Rhode Island is worthy of our students, teachers, and communities.
Seth has also used his position to make it easier for Rhode Islanders to access higher education. He transformed CollegeBound, Rhode Island's 529 college savings plan, which had previously been rated among the lowest performing programs of its kind just before Seth took office, into a national leader that has received awards from national rating services. He also expanded the program to cover expenses for apprenticeship programs, providing Rhode Island students and workers additional flexibility to build their careers and receive practical, hands-on training.
This year, Seth spearheaded successful legislation to guarantee that all students in Rhode Island have access to a financial literacy education prior to graduating high school so they are empowered with the tools necessary to make some of the most important financial decisions of their lives.
As Governor, Seth will build on his strong track record and prioritize education and training for all Rhode Islanders – from early childhood programming, to the K-12 education system, to postsecondary education and workforce training for those not going to college or adults looking to change careers.
---
Let's Get to Work: Transforming K-12 Education to Meet 21st Century Needs
The most important thing we can do to build a strong, 21st-century economy in Rhode Island is to invest in our people. This starts in our public school system. As Governor, Seth would ensure that Rhode Island's nearly 140,000 school-aged youth receive a high-quality education through a diverse set of strategies centered on the students, with strong support for teachers and staff, educational resources, and modern curriculum.
Commit to continually improving Rhode Island's school facilities. As co-chair of Rhode Island's School Building Task Force, Seth has made possible the largest investment in history, transforming or replacing more than 176 school buildings with an investment of over $1.4 billion. These upgrades have impacted more than 90,000 students and supported 23,000 jobs, providing healthier and more modern learning environments and meeting long-overdue need for repairs and maintenance. There is still more work to be done. Seth will support an additional bond to ensure funding to replace or transform the school buildings that are still in need.
Expand and improve high school career and technical education (CTE) programs. Students need to be better prepared than ever to enter the workforce. CTE programs provide students hands-on experience in trades and specialties and let them explore career possibilities early, with potential to access stable, well-paying careers right out of high school. In recent surveys by WPRI, several superintendents cited a clear need to expand work-based curricula in Rhode Island schools. As Governor, Seth would work to grow the overall number of CTE programs, invest in CTE teacher training, and make the investments needed to provide more Rhode Island students this valuable opportunity and make these opportunities more accessible to low-income students. Importantly, Seth would also expand youth apprenticeship models to help prepare youth to quickly and seamlessly enter into registered apprenticeship programs after high school.
Increase funding for English Language Learners (ELL). Students requiring assistance with language acquisition currently represent 10% of Rhode Island learners. They are the fastest-growing student population in our schools. And yet, as of 2019, dual-language immersion was offered in only eight of Rhode Island's 306 public schools, and 26% of emergency teacher certifications were for ELL specialties – clear signs that this important student population is not receiving adequate resources to thrive in school. As Governor, Seth would work to permanently embed ELL in Rhode Island's school-funding formula while expanding dual-language programs, closing a clear equity and resourcing gap.
Review and adjust the state's school funding formula to maximize fairness. Rhode Island's existing school funding formula is almost a decade old, and it is time to take a fresh look at ways the formula can be enhanced to adequately serve all students. In particular, Seth will ensure that students enrolled in special education and English Language Learning programs are supported. As Governor, he would closely review the state's funding formula and work with key stakeholders to ensure every child is fairly served.
Step up recruitment and retention of hard-to-fill positions. Each year, Rhode Island schools struggle to fill roles in core areas including special education, English Language Learner programs, STEAM (Science, Technology, Engineering, Arts, and Mathematics) education, and urban school districts. As Governor, Seth would offer student loan forgiveness and signing bonuses to teachers entering critical hard to fill positions.
Improve the diversity of Rhode Island's teacher corps. Many Rhode Island cities and towns struggle to recruit and retain a diverse teaching staff that is reflective of the underlying K-12 student population. For example, nearly 90% of Providence students are black or Hispanic, while 80% of teachers are white. Seth believes that addressing these imbalances is critical. Not only must we ensure that workers of all backgrounds get an equal chance to succeed professionally in the Ocean State, but research has shown that students benefit academically when the teachers at their school reflect the diversity of the community. As Governor, Seth would invest in programs to recruit and hire a multicultural, diverse teaching corps, exploring initiatives such as new academic partnerships, loan forgiveness programs and professional support.
Expand school-based mental and behavioral health services for both students and teachers. According to the Substance Abuse and Mental Health Services Administration, 19% of Rhode Island children ages 6 to 17 have a diagnosable mental health problem, and 10% experience significant functional impairment due to that diagnosis. COVID-19 has only exacerbated these challenges, putting additional stress on both students and teachers. Nationally, more than 25% of high school students, and over 20% of children ages 5-12, have experienced worsening emotional and cognitive health during the pandemic, and 84% of teachers surveyed by EdWeek said that teaching is more stressful than it was pre-pandemic. As Governor, Seth would work with the Rhode Island Department of Education and other stakeholders to secure additional resources to meet the socio-emotional needs of Rhode Island students and teachers alike, providing funding for additional school counselors or other school-based mental health programming.
Expanded Learning Time Is a High-Impact Use of Federal Recovery Funds. The American Rescue Plan Act and the Elementary and Secondary School Emergency Relief Fund should be spent to help those students struggling with learning loss as a result of the pandemic. This should include after school programs, summer programs and internship opportunities, and tutoring.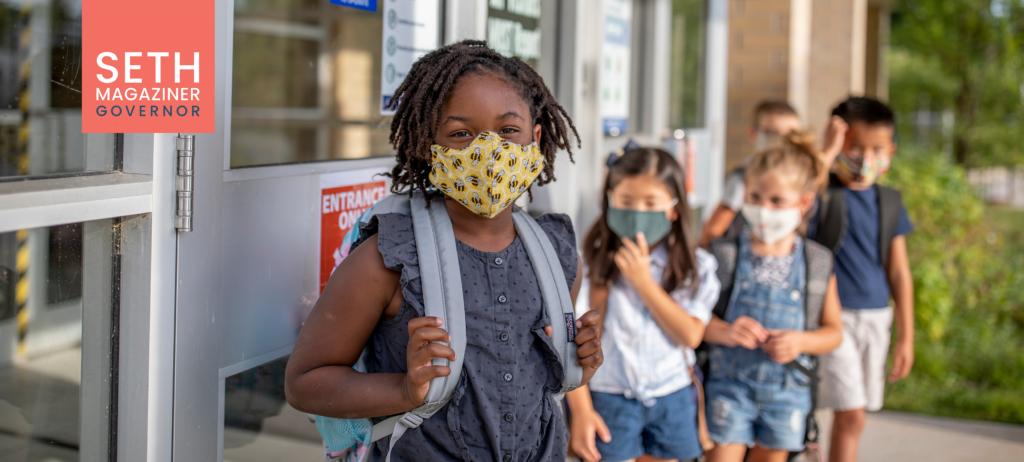 Let's Get to Work: Providing a High Quality Early Childhood Education
Seth believes that every Rhode Island child deserves a world-class education right from the beginning, regardless of background. This isn't just a moral issue – it's an economic one. Investments in early childhood education lead to higher high school graduation rates and college enrollment rates, increased lifetime earnings, lower unemployment, and improved quality of life. As Governor, Seth would:
Guarantee access to free, full-day Pre-K for every Rhode Island child. As a former elementary school teacher, Seth has seen firsthand the difference that early childhood education can make. Rhode Island is a national leader in Pre-K quality, according to the National Institute for Early Education Research – a bright spot for our state. Yet, for many Rhode Island families, Pre-K is unaffordable. Seth will deliver universal access to Pre-K for all young Rhode Islanders, because all Rhode Island children deserve a strong start in school. This expansion will be rapid, and will be accomplished while maintaining program quality and student-to-teacher ratios. As of 2020, the RI Pre-K program is one of four state-funded Pre-K programs ranked first in the U.S. for meeting all recommended quality benchmarks but is ranked 35th in the U.S. for percentage of four-year-olds served. Rhode Island currently has about 1,420 pre-K seats and needs to add about 5,600 additional seats to ensure that every four-year-old has access to the program.
Increase wages for early childhood educators and child care workers. At $12/hour, childcare educators make among the lowest wages for workers in the state. At the same time, Rhode Island allocated $47M less in state funding to childcare in 2021 than in 2005, and families in the state report struggling to afford basic childcare. As Governor, Seth would increase rates paid to childcare providers and pilot a statewide wage supplement for those childcare providers with extra credentials – bringing Rhode Island in line with at least 15 states who have invested in wage supplement programs. He would work with the General Assembly to provide a weekly bonus for childcare providers who care for babies. And he would ensure that family co-payments continue to be capped at the affordability standard set by the federal government.

Let's Get to Work: Making Higher Education More Affordable and Accessible
Postsecondary education is more important than ever to our economy. A significant majority of jobs in Rhode Island now require a degree beyond high school. At the same time, Rhode Island recently led the U.S. in undergraduate enrollment declines (15.8% drop versus a national average of 4% in fall 2020.) These trends severely threaten Rhode Island's economic competitiveness – something that Seth finds unacceptable. As Governor, he would act with urgency to ensure Rhode Islanders of all ages have access to college and workforce training.
Expand the Rhode Island Promise Scholarship to URI, RIC. Seth is a strong supporter of the Rhode Island Promise scholarship, which provides two years of free community college tuition at the Community College of Rhode Island (CCRI) to eligible Rhode Island residents. Rhode Island Promise has been credited with quadrupling CCRI's graduation rate while helping hundreds of Ocean State students achieve college credentials and reducing financial hardship. The success of this program has made its expansion absolutely critical to build a 21st century workforce and he would expand the scholarships to cover the second two years of tuition at University of Rhode Island and Rhode Island College.
Expand the Rhode Island Promise Scholarship to adult learners. As Governor, he would eliminate the age limit in the Rhode Island Promise program to allow more mid-career workers to pursue higher learning and enter more stable careers. These changes would make the dream of a college education a reality for thousands of Rhode Islanders, strengthening our ability to compete for the best jobs.
Broaden opportunities for Rhode Island students and workers to earn college credit. Seth wants Rhode Island's high school students to have a leg up in going to college. He is a strong proponent of expanding dual enrollment programs at Rhode Island's high schools to give students an opportunity to take college classes for credit, accelerating their progress to a future college degree while helping our state's colleges to sustain their enrollment. Seth also will create a statewide plan to establish pathways to a bachelor's degree from Rhode Island's public colleges and universities using credits from on-the-job apprenticeships.
Expand work-based learning opportunities. To make work-based learning a reality for more Rhode Islanders, Seth's Administration would continue to partner with higher education institutions to better integrate internships and apprenticeships into postsecondary curricula and ensure students receive educational credit for qualified on-the-job training. In addition, Seth would invest ongoing marketing to and partnership with local employers to help them identify openings and recruit and train candidates, creating a new generation of skilled workers in our state.

Let's Get To Work: Training Rhode Island's Workforce
Rhode Island was rocked by COVID-19. Over 100,000 jobs were lost, and Rhode Island has lagged other New England states in recovering these lost jobs. The vast majority of those unemployed in Rhode Island are adults who have not completed any education past high school. To combat these challenges, the best thing we can do for Rhode Island workers is to make training opportunities accessible while proactively working with employers to make hiring workers simple and easy.
Strengthen and expand Real Jobs Rhode Island. Real Jobs Rhode Island is an important workforce development program that promotes employer-led partnerships to hire, train, and retain workers in our state. Rhode Island companies come to the table with actual hiring needs and receive help from the government to find and train talent. Meanwhile, Rhode Island workers obtain new skills and new opportunities to succeed. Seth recognizes the importance of pursuing workforce solutions like this – solutions that reflect actual industry demand. As Governor, he would expand the Real Jobs program to new sectors, strengthen outreach efforts to thousands more job seekers, and create a clear mechanism to measure how program funds are spent to ensure efforts achieve maximum impact.
Integrate adult education into workforce training. Many adult job seekers have unmet learning needs across topics – from literacy to basic math skills to the English language. To truly thrive in their careers, these job seekers will need more than targeted, occupation-specific training. They will need basic adult education delivered in conjunction with standard job-training as well as wrap around services including access to public transportation. Seth's Administration would elevate the importance of adult education in state workforce development to give our people the best chance at getting a good paying job.
Increase apprenticeship opportunities and on-the-job training. While postsecondary education is important, many professional skills are learned on the job. Internships and apprenticeships provide Rhode Islanders with the opportunity to gain real, practical job training and a pathway to a stable, good-paying career in high-growth industries. Research has shown that 91% of apprentices are employed after completing their programs, with an average starting salary of over $60k. Equally important, for every dollar an employer invests in an apprentice, they are estimated to recoup $1.47 in increased productivity, reduced waste, and greater innovation. That's why, as Treasurer, Seth expanded the CollegeBound program to allow families to save for apprenticeship programs and it's why he will continue to support quality, registered apprenticeship programs that train workers for the high-growth industries of the 21st century.