LET'S GET TO WORK ON INFRASTRUCTURE
Where We Are
Rhode Island's economic future relies on the quality of our infrastructure. Rhode Islanders need reliable public transit and safe roads to get to work; clean energy infrastructure that will protect our natural resources and improve public health; safe schools for our children; and healthy communities to raise them in. One of Seth's first acts as Treasurer was to develop new clean energy financing programs at the Rhode Island Infrastructure Bank which have allowed municipalities and small businesses to reduce their energy consumption, build out solar panels and wind turbines, and save money in the process. Now, with new federal infrastructure funding, Rhode Island needs a Governor with the vision to make transformational upgrades to the systems that power our economy. As Governor, Seth will ensure the state is making investments to address the greatest challenges we face and prepare us for a 21st century economy.
Seth's Record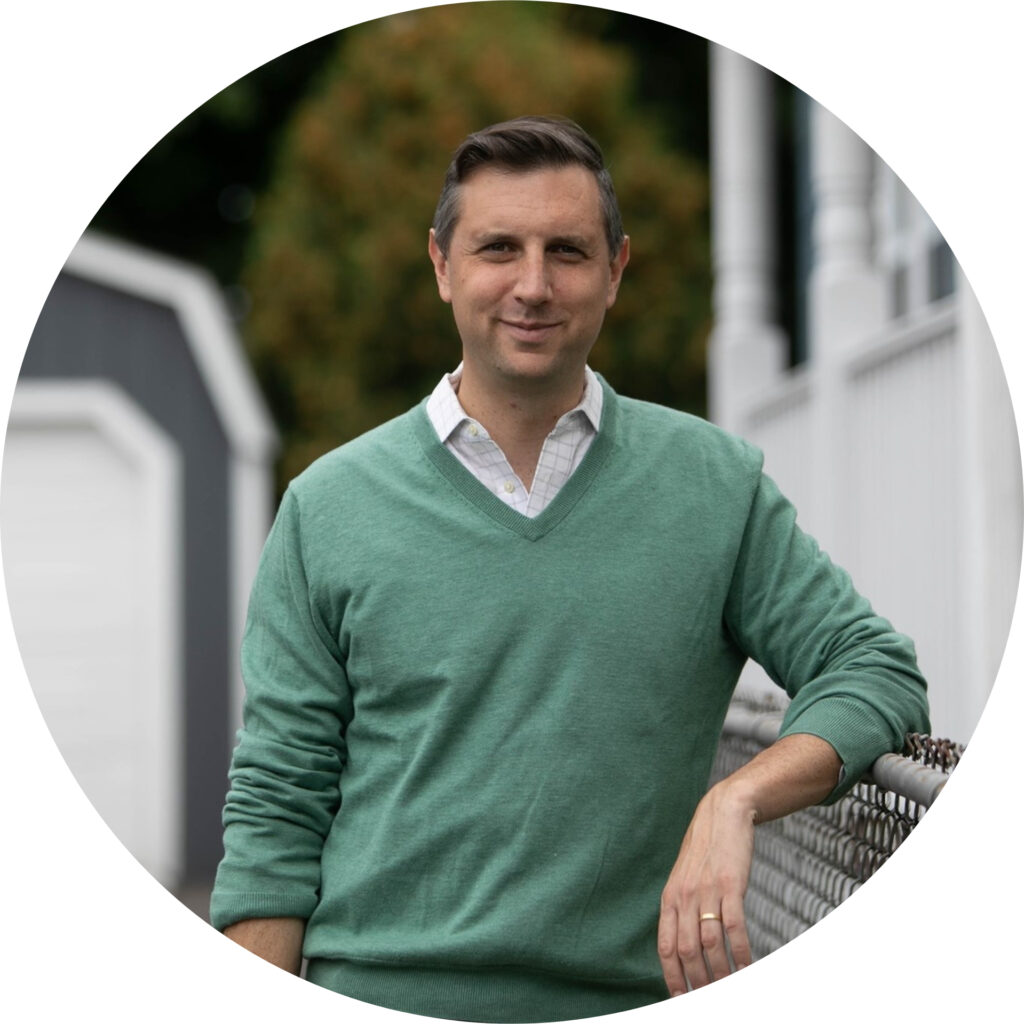 One of Seth's first acts as Treasurer was to develop new clean energy financing programs at the Rhode Island Infrastructure Bank. These programs, the Efficient Buildings Fund and the Commercial Property Assessed Clean Energy (C-PACE) program have invested over $145 million into alternative energy and energy efficiency projects, creating more than 2,000 jobs. For example, Seth's programs funded energy retrofits for the City Halls in Cumberland and Pawtucket; put solar panels on the roofs of municipal buildings in Westerly; and helped convert the Newport Wastewater Treatment Plant to being powered by solar energy. As a result of these programs, the Town of West Warwick has not had to pay an electric bill on its municipal buildings in 5 years because it is powered by wind and solar power.
Seth's Infrastructure Bank programs have helped small businesses and nonprofits save money on their energy bills as well. For example, the Sunshine Child Development Center in North Kingstown will save $232,000 in energy costs after getting a loan from C-PACE to install rooftop solar.

Let's Get to Work: Building Clean Energy Infrastructure
Seth understands that investing in clean energy initiatives will help Rhode Island thrive by combatting climate change AND creating job growth. Investing in clean energy infrastructure is not only right, but smart. As Governor, Seth is committed to a clean, affordable, reliable and equitable energy future. He will:
Transition to 100% renewable electricity by the end of the decade. Seth was the first candidate for Governor to advocate for the Act on Climate RI, which requires Rhode Island to achieve net-zero emissions by 2050. He has also pledged to transition Rhode Island to 100% renewable energy by 2030. To make this a reality, Seth will move full speed ahead on developing Rhode Island's offshore wind capacity. With the first operational offshore wind farm in the United States, Rhode Island has the expertise, strategic location, and ports to capitalize on this growing industry and become a key player in the supply chain for offshore wind. Seth will focus on dramatically expanding Rhode Island's offshore wind production and ensuring we create jobs not just in the installation and maintenance of the windmills, but also in the manufacturing and distribution of component parts for offshore wind projects across the region.
In addition, Seth will promote investment in other alternative energy development, including an expansion of responsibly-sited solar power. This means prioritizing development on sites that do not disturb the natural environment, like brownfields, rooftops, parking lots and landfills.
Move towards electric heat and transportation. Seth will support a program for heating system transformation – providing grants to install electric heat pumps and insulation – to help homeowners lower utility bills and get off emissions-intensive oil and gas heat, a key part of meeting the State's decarbonization goals. This will also mitigate the impact of any future gas outages. In addition, Seth will act aggressively to convert public vehicle fleets to electric vehicles, and build out charging stations statewide.
Transition the workforce to a clean energy economy. The new green infrastructure programs Seth created at the Rhode Island Infrastructure Bank have already invested $145 million in alternative energy and energy efficiency projects across the state, supporting more than 2,000 jobs. Transitioning to a green energy economy is a major opportunity to put thousands more Rhode Islanders to work in good-paying, clean-energy jobs. As we move through this transition, Seth will not leave any Rhode Islander behind. Seth's Administration will focus on creating career pathways for workers leaving the fossil fuel industry; fund workforce training and registered apprenticeship opportunities to ensure a ready workforce; and focus on equity to ensure members of frontline communities who are disproportionately impacted by environmental injustice benefit.
Modernize the electric grid to support renewable energy. In the face of severe weather caused by climate change, which will lead to more frequent outages, Seth supports improvements to the resiliency of the local electrical grid. Additionally, to integrate more clean energy and reduce fossil fuel emissions, updates to the electricity grid are necessary.
As Governor, Seth will ensure Rhode Islanders have access to clean energy technologies, which are becoming increasingly affordable, and prioritize the use of modern smart grid technology to help customers monitor their usage to maximize energy efficiency. Seth will also support investment in building micro-grids to power essential buildings and town centers.
All of these upgrades will be made while also implementing programs to mitigate cyber risks to infrastructure and making rates more affordable for low-income customers.

Let's Get to Work: Making Rhode Island Climate Resilient
The impacts of climate change are already affecting Rhode Islanders – the Narragansett Bay has risen more than six inches in the last 30 years, and extreme weather events like Tropical Storm Henri and the remnants of Hurricane Ida washed away roadways, flooded homes and left many Rhode Islanders without power for days. The latest United Nations Intergovernmental Panel on Climate Change (IPCC) report said leaders "must act decisively now" to slow the impacts of climate change. Seth was a founding member of Climate Jobs Rhode Island – a coalition of labor, environmental and elected leaders working to create good jobs to transition Rhode Island's economy to net zero- and an early supporter of the Act on Climate.
With nearly 400 miles of coastline, the Ocean State is on the frontlines of the climate crisis, with sea-level rise, extreme weather and extreme heat threatening our economy, health and safety. But, we also have a major opportunity to put thousands of people to work in good jobs with family-sustaining wages in transitioning to a green economy.
Plan for Resiliency. Building on his experience and success launching the statewide school construction plan, Seth will work with each municipality to complete a resiliency plan with specific infrastructure upgrades needed to prepare for a changing climate. These investments will immediately create thousands of jobs and build a stronger, more resilient state with equitable economic opportunity. Providing homeowners and businesses with tools to better understand and address their own flooding risk will also allow them to protect their property and investments. Seth will design and implement a flood audit program to help make Rhode Island more resilient.
Bond for climate resiliency. Seth's Administration will put a statewide green bond before voters as an investment to complete projects that will protect Rhode Islanders from the impacts of climate change, including raising roads and bridges, upgrading evacuation routes, protecting wastewater infrastructure, restoring marshes and sand dunes, improving drainage, and preserving green space to improve health and reduce polluted runoff.
Create good-paying, green energy jobs. As Governor, Seth will act decisively and launch an ambitious plan to make Rhode Island's infrastructure resilient to sea-level rise and severe weather caused by climate change. Seth will ensure these are good jobs by requiring project labor agreements – with prevailing wage standards and apprenticeship utilization requirements for large scale projects.

Let's Get to Work: Continuing the Progress on School Construction
In 2017, Seth developed an ambitious, once-in-a-generation plan to fix Rhode Island school buildings as co-chair of the state's School Building Task Force. Under his leadership, Rhode Island has already approved more than $1.4 billion to transform or replace nearly 180 school buildings, creating healthier and more modern learning environments for Rhode Island's students and teachers. Additionally, this investment has created over 23,500 jobs.
The impact of Seth's school construction plan can be seen across the state, from new high schools in East Providence and Newport, to renovated elementary schools in Smithfield and Cranston, and with more to come.
Seth knows that a high-quality education starts with a "warm, safe, and dry" place to learn, equipped for the 21st century learning necessary to prepare for today's jobs. Inadequate school buildings impede teachers' ability to teach and students' ability to learn. School facility improvements can also expand opportunities for STEM learning and career and technical education. These projects support local jobs and support economic growth. As Governor, Seth will:
Commit to continually improving Rhode Island's school facilities. As co-chair of Rhode Island's School Building Task Force, Seth has already helped the state allocate more than $1.4 billion dollars to transform or replace nearly 180 school buildings. However, there is still more to do. These upgrades will benefit more than 95,000 students annually and have created 23,000 jobs, providing healthier and more modern learning environments and – in many cases – meeting long-overdue requests for repairs and maintenance.
As Governor, Seth will not stop until all students are able to attend school in high-quality, 21st Century learning environments. He will continue to prioritize funding for school construction projects while also adopting new standards to ensure that schools are energy efficient, and that local woman, veteran and minority owned contractors are fully engaged in the work of transforming Rhode Island school buildings.

Let's Get to Work: Reimagining Transit
With world-class universities, attractive quality of life, and a strategic location in the middle of one of the world's most productive economic regions, Rhode Island is well-positioned to be a leader in the economy of the future. But, in order to meet our economy's potential, we need to invest in holistic upgrades to our transportation systems. As Governor, Seth will:
Make RIPTA free and expand service. Seth understands that public transportation can grow our economy by more efficiently getting Rhode Islanders to and from their places of employment, education, and training. As Governor, he will make RIPTA free, helping workers and seniors to keep more of the money they earn and spending it in the local economy. He will add routes, especially in high-need communities, and increase the frequency on existing routes. Improved RIPTA service will keep us competitive in the regional economy while supporting Rhode Island workers.
Invest in frequent, fast, reliable rail service. The Providence/Stoughton MBTA commuter rail line is the busiest commuter line in the region, serving upwards of 25,000 people per day. Unfortunately, as the transit advocacy group TransitMatters has pointed out, the line was designed for mid-20th century service; the region's commuting patterns and needs have since evolved substantially. With strategic upgrades and improvements, an end-to-end trip on the Providence/Stoughton line could be reduced from 70 to 45 minutes. Reducing the trip time and increasing frequency during high commuting times would improve the quality of life for thousands of Ocean State commuters and ensure transit adequately addresses their needs. Faster and more frequent rail service will better connect Providence with Boston, unlocking additional economic opportunities throughout the region, particularly in Pawtucket and Central Falls with the construction of a new train station. Improving rail transit also reduces congestion and transportation emissions. As Governor, Seth will make faster and more reliable rail a priority, and bring fresh advocacy and funding to see these projects to fruition.
Enable the transition to electric vehicles. In addition to cutting fares and improving service, Seth will also reduce the fossil fuel emissions of public transit by transitioning RIPTA buses to an all-electric fleet. Additionally, Seth will direct all State agencies to convert their fleets to electric vehicles. As car companies commit to shifting their production to electric cars, Seth will maximize federal, State and private funding to create a convenient network of EV charging stations to power these vehicles.
Continue RhodeWorks to improve road and make our bridges safe. Before the implementation of RhodeWorks, Rhode Island had the most structurally deficient bridges in the country. Seth took a bold stand and supported RhodeWorks when it was proposed, showing leadership and recognizing the importance of these projects to improve the state's economic competitiveness and create jobs.
During the pandemic, construction never stopped in Rhode Island. Work continues across the state, and today, 44 fewer bridges are structurally deficient than in 2016. But hundreds more need repairs and continuing RhodeWorks will keep Rhode Islanders working while ensuring Rhode Island has the infrastructure it needs to make it a more attractive place for businesses to invest and people to live and support their families.
Encourage biking and walking. Building better connected communities is aligned with the needs of a modern workforce. Rhode Islanders want walkable and bikeable communities and providing more transportation options improves safety, equity, and health while reducing congestion and emissions. Seth will make the mobility and safety of all road uses, including bicyclists and pedestrians, a priority in all road and bridge projects.

Let's Get to Work: Upgrading Water and Food Infrastructure
As the Ocean State, Rhode Island must adequately invest in its critical water infrastructure, such as drinking water, sewer, wastewater treatment, and port infrastructure, to protect our state from the impacts of climate change, foster healthy communities and promote our local and coastal economies. As Governor, Seth will:
Upgrade water and sewer infrastructure to improve water quality. The quality of Rhode Island's waterways, and particularly the Narragansett Bay, is vital to our state's economy and our quality of life. Seth has long supported the Combined Sewer Overflow abatement project- underground tunnels that prevent polluted water from running off into the Bay during heavy rains. He has also advocated with state regulators to protect low-income Rhode Islanders from increasing sewer bills. Rhode Island must continue to invest in keeping our Bay clean with other nature-based stormwater projects, like preserving mature trees, planting vegetation in medians, and reducing impervious paving. Seth will support the expansion of Infrastructure Bank programs – which have invested more than $500 million in water quality since 2015 – to fund projects to reduce stormwater runoff.
Make drinking water safe by replacing lead service lines. Because of Rhode Island's old housing stock and infrastructure, many homes have outdated utilities – such as lead water pipes connecting household water systems to public water utilities. Lead can have negative health impacts on residents – especially children, leading to lead poisoning, development delays, asthma and other health problems. Replacing these lines is prohibitively expensive for many Rhode Islanders. Seth will utilize newly available federal funding to replace any remaining public lead service lines, and provide grants to homeowners to replace the private side of their lead service lines.
Build the infrastructure to support the local food economy. As Governor, Seth will support the goals of Relish Rhody, the Rhode Island Food Strategy, and refocus State government on building a robust, sustainable and equitable local food system. Seth will invest in preserving agricultural land, support innovation like responsibly sited indoor agriculture and ensuring small-scale farmers have access to the capital they need.
Support Fisheries and Seafood Processing. Commercial fishing supports thousands of jobs and is key to Rhode Island's brand as the Ocean State. But more than 90% of seafood caught here is exported, in part due to insufficient wastewater processing infrastructure that limits processing local catches onshore. Seth will upgrade the docks and bulkheads at the Port of Galilee, and upgrade wastewater infrastructure to support the expansion of seafood industry jobs and local "dock to dish" supply lines.
To ensure sustainability in agriculture and aquaculture, Seth will strengthen job training, simplify licensing requirements and support succession planning to address the aging workforce. He will also promote the local food products to drive consumer demand.

Let's Get to Work: Expanding Broadband Access
As Governor, Seth will focus on building an innovative, 21st century economy in the state. The COVID-19 pandemic transformed our homes into classrooms and offices, and it shifted small business transactions to online ordering. High speed internet has been compared to a "highway" to jobs, education, political participation, and information about the world. To provide all Rhode Islanders with affordable, high-speed internet, Seth will:
Expand broadband access, with a focus on the last mile. Because of Rhode Island's size, the state has more fiber optic cable per square mile than anywhere in the country. But access to the 48 strands of fiber optic cable – referred to as the "Middle Mile" – is not available to many businesses and residents. Seth will support the development of "Middle and Last Mile" connections, with a focus on communities with the lowest connectivity and highest costs, especially rural areas and coastal communities.
Create a statewide broadband coordination office. To coordinate State and federal funding opportunities and drive policy to expand accessibility and bridge the digital divide, Seth will create an office for statewide broadband coordination. Currently, Rhode Island is one of only two states without one. He will also establish a broadband advisory council to put forward a strategic plan to maximize broadband opportunities for the state.
Ensure affordability for underserved populations. Affordability issues drive an enormous digital divide, putting low-income residents at a disadvantage. More than 58,000 families, or 14.2% of households, are not connected to the internet, and nearly 42,000 more families, or 10.3% of households, only have access via a smartphone and data plan. As Governor, Seth will institute discounts for low-income customers to access high-speed internet to bridge the digital divide. He will also require that all affordable housing developments are equipped with broadband internet service to support their residents.